IBC Trust Service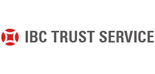 IBC Trust Service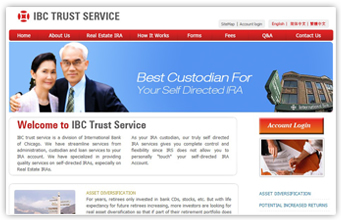 The Client: IBC Trust Service
IBC Trust Service is a division of International Bank of Chicago. They specialize in providing quality self-directed IRA services, particularly real estate IRAs. They offer streamlined services for administration, custodian and loan services. Their truly self-directed IRA services offer customers complete control and flexibility.
Challenges:
Despite being located in Chicago and focused on the U.S. market, IBC Trust attracts a large number of customers from mainland China and Taiwan. Also, many of the local customers are of Chinese ancestry, and prefer to use a website in their native language. The English site includes many valuable resources, forms, and instructions on how to open an account, which are all important to fully understand. IBC was having a challenge communicating clearly to its customers and reaching more potential Chinese business from the U.S. and China.
Solutions:
In addition to the English website, Systemtek developed two other websites in Chinese. One website was developed in Simplified Chinese Characters. The other Chinese site was created using Traditional Chinese Characters. This ensured that customers from Taiwan and Hong Kong (who prefer to read the Traditional script) and customers from mainland China would each have a resource tailored to their preferred language. Using a similar navigation structure and design, Systemtek kept a professional consistency among all three websites.
Results:
IBC's Chinese customers are confident investing their money with a company that speaks their language. Now, Chinese customers from Chicago and around the world can learn how to invest their money wisely via websites designed just for them. The websites are receiving tremendous traffic from mainland China and Taiwan, due to the fact that they are written specifically for that audience.